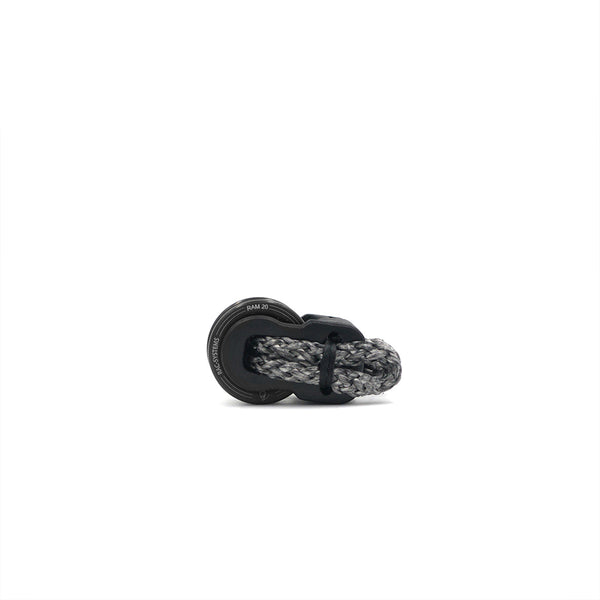 | | |
| --- | --- |
| Sheave | 20mm |
| Max line | 5mm |
| SWL | 225kg/170kg |
| Weight | 6g/7g |
SIZE 1, High-Load Bearing.
25% higher SWL than Performance Bearings.
Ideal for semi-static applications
Bearing ID Colour: Black
The MORF Block is a light weight and high efficiency block.
MB Cheeks are manufactured by FFF in UV stable plastic; its standard colour is black but it is custom available in a wide range of colours.
MB Bearings are manufactured in high quality low friction materials.  Its patented technology not only provides a low friction media between the rope and sheave but protects its components from ware. High Load bearings are ideal for highly loaded semi-static applications such as: mast base lead blocks, halyard blocks, runners and highly loaded lines. High Performance bearings are ideal for demanding applications such as sheets and control lines where the blocks are in constant movement.
Sheaves  are precisely CNC machined in 6082-T6 aluminium with a hard anodise finish. Their size range provides a larger overall diameter, large flange, low weight and incredible load characteristics.
Loops are rigged by MARLOW ropes using a range of Dyneema® SK78, SK99 and chafe covers. The result is a low elongation, light weight, low level of water absorption, high resistance to U.V. rays and low abrasion loop.
Need some help picking the correct block?
Sizing your block
Working Load
The Morfblock patented Adaptive Geometry Bearing technology improves its efficiency as the working load increases. Optimal performance is guaranteed from 25% of the SWL; we recommend to size your blocks accordingly.
Rope Diameter
Check your line diameter requirements to ensure they meet the block specifications.
Select your bearing
High Load Bearing
High Load Bearings are ideal for semi-static applications where blocks are required to resist high loads with low spin.
Performance Bearing
Performance Bearings are ideal for dynamic applications where the blocks are required to spin at high revolutions with low friction.
Lashing and Running
Lashing Rope
Choose your lashing line according to meet the blocks stated braking load. Remember, knots will reduce the ropes strength!
Running Line
We highly recommend using covers on your running lines.